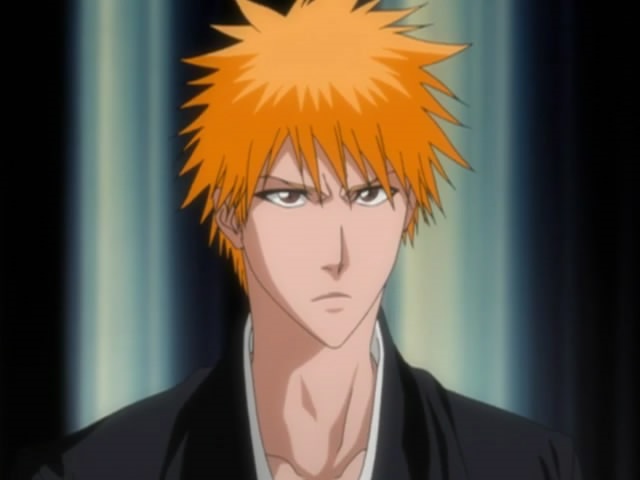 Ichigo looks like a normal teenage boy; the one exception to that is his spiky orange hair, a trait that he has been ridiculed about for years. He is a fairly tall, lean-built person with peach skin and brown eyes. Since becoming a Shinigami he has become noticeably more muscular, as noted by his sister Karin. When in his spiritual form, Ichigo wears standard Shinigami attire with the addition of a strap across his chest. Initially it was a thick brown belt to hold his Zanpakutō sheathe,[2] but it later became a red rosary-like strap.[3] Ichigo's appearance has caused several people, including Jūshirō Ukitake, to notice a similarity to Kaien Shiba; the former lieutenant of the 13th Division.[4]
edit Personality
When he was young, Ichigo considered his mother to be the center of his world.[5] Ichigo always smiled whenever he was with Masaki and he was regularly at her side, holding her hand. Despite crying whenever he lost in a match at the dojo he attended, Ichigo started to smile again as soon as he saw Masaki when she came to pick him up.[6] At a very young age, Ichigo heard his father saying that his name means "to protect one thing", which instilled in him a desire to protect his mother. When his sisters were born he began attending a dojo for the sake of protecting them, since then the number of people he wished to protect has continued to grow,[7] causing Ichigo to risk his life to protect both his family and strangers.[8][9]
As a Human teenager, Ichigo's personality is much more complex. Stubborn, short-tempered, strong-willed and impulsive, he attempts to maintain a detached and "cool" image, despite claiming not to care about what other people think about him. He generally keeps his face set in a permanent scowl, with his eyebrows drawn together.[10] His outspoken, hot-headed demeanor is a trait Ichigo himself acknowledged, and that if somebody picks a fight with him, he cannot help fighting back. He coldly refers to his teachers as "instructors".[11] He is shown to be genuinely compassionate and empathetic about others, as seen by him promising to bring a Plus flowers[12] and a toy plane[13] or soothing others when they become upset.[14] Ichigo is also a capable student, ranked 23rd in his high school.[15] He studies regularly and does not neglect his schoolwork, claiming that he has "nothing better to do at home", though he actually works as hard as he does simply to overcome the misconceptions many have about him, which are based on his hair color and fighting.[16] Ichigo hates fortune telling, horoscopes, fengshui, psychics and anyone whose trade involves taking money from people for things that they cannot see.[17] He has difficulty remembering people's faces and names.[18][19] Ichigo becomes extremely shy and uncomfortable around nude or immodestly dressed women, a fact both Rangiku Matsumoto and Yoruichi Shihōin have teased him for.[20] Ichigo has some trouble with authority and traditional respect, often quite rude and disrespectful when talking to those older than himself, calling Genryūsai Shigekuni Yamamoto "gramps" and referring to several of the Shinigami captains by their given names.[21]
When it comes to fighting, Ichigo has a complex sense of honor; he regularly seeks to exact revenge for the actions of his opponent, such as instilling the fear of being murdered in Shrieker[22] and cutting off the right arm of Yammy Riyalgo in retaliation for him ripping Yasutora Sado's right arm apart.[23] He would often taunt and belittle his opponents when fighting, sometimes even attacking without warning.[24] Ichigo has a strong desire to win his fights[25] and to win them in what he views as a legitimate manner. To this end, he has refused the aid of his inner Hollow, even when knowing that it would allow him to win.[26] Similarly, after regaining control of his body, he tells Ulquiorra to cut off his limbs so that they may have a fair fight[27] and refuses to kill him when he is dying; saying that it was not the way he wanted to win.[28]
Ichigo has even shown that he despises those who mistreat their allies in any way, even if they are his own enemies. He is disgusted when an individual berates his/her own allies, such as when Yammy calls Ulquiorra Cifer, Nnoitra Jiruga, and Grimmjow Jaegerjaquez trash[29]. He also expresses anger towards those who go as far as attacking their own allies, expressing that he cannot forgive those who murder their own comrades.[30]
Despite Ichigo's strong sense of honor, his will to win can waiver at times, which directly affects his overall energy levels and fighting abilities. His absolute resolve is depicted by his eyes glowing bright blue and his body being engulfed in a bright blue aura. The same is included with his Hollow powers, in which his eyes glow yellow and his aura turns black. Ichigo's abilities at their peak allow him to hold his own, if not contend, against the toughest opponents. His will to protect his friends is shown to be so great that, even when battle-worn, he can fight at deceptively high levels, as seen when he effortlessly caught Grimmjow's punch when in his released state. However, at the same time, his lack of resolve to win can also impede his spiritual energy and fighting prowess, shown when he goes into a state of depression and self-loathing when he loses a major battle or lets a friend down; after losing his fight against Yammy and Ulquiorra, thanks to the crippling fear of his inner Hollow, Ichigo's will became so weak, he was unable to even defeat a weak Hollow until Rukia helped restore his resolve.[31]
edit History
Young Ichigo with Tatsuki Arisawa.
Ichigo was born on July 15th, as the son of Isshin Kurosaki and Masaki Kurosaki, 15 years before he became a Shinigami. His sisters Karin Kurosaki and Yuzu Kurosaki were born a few years later. When he was four, Ichigo joined a karate dojo, where he met and befriended Tatsuki Arisawa. Tatsuki beat Ichigo in every match they had. Tatsuki would also help Ichigo if he was being picked on by bullies and cheer him up if he was upset.[6]
Ichigo was able to see Pluses for as long as he could remember. He could see them so clearly that, as a child, he could not tell the living from the dead. This resulted in him appearing to other people to be looking at deserted places and talking to himself. This caused people to say that he could see ghosts, though when Tatsuki Arisawa asked him about this, he denied being able to see them.[32]
On June 17th, when Ichigo was nine years old, he and his mother were walking home alongside one of Karakura Town's rivers; which was swollen from heavy rain. Ichigo saw a girl near the river and thought that she was about to jump into it. Unable to tell the difference between ghosts and living people, Ichigo ran towards her to stop her, unaware that the girl was the lure of the Hollow Grand Fisher. Masaki tried to stop him, but he did not listen. After failing to grab hold of the girl, Ichigo lost consciousness for a time. When he awoke, Masaki was lying on top of him, covered in blood.[33] Starting the day after Masaki's death, Ichigo repeatedly skipped school to go to the riverbank where Masaki died. Tatsuki found him there, where he would stay from morning until night, wandering along the bank as if searching for his mother; squatting down if he was tired and then wandering some more.[34]
Ichigo risking his life to protect Chad's coin.
One day when Ichigo was twelve, prior to the Clinic opening, he heard the bell ring and answered the door to find a girl with her brother on her back. He had been in a car accident and was covered in blood. The clinic did not have the equipment necessary to save him and he died before an ambulance arrived to transfer him to Karakura Hospital. Sometime later, he learned that the girl was Orihime Inoue.[35]
Ichigo later entered Mashiba Junior High School. During this time, Ichigo had finally defeated Tatsuki in a karate match and had not had another match with her since.[36] Ichigo regularly got into fights with thugs, due to the unusual color of his hair. During one of these fights he protected Yasutora Sado from a group of thugs. When the thugs later abducted Chad, Ichigo found them and knocked down their leader, Yokochini. He used Yokochini's phone to ring for an ambulance for each of the five thugs, and then beat up all of them. After Chad was freed they made a pact to protect and fight for each other, they have remained good friends since.[37]
Shortly before Ichigo became a Shinigami, he and Chad began attending Karakura High School, and their reputations preceded them. During a fight with a gang led by Reiichi Ōshima, Ichigo and Chad met Keigo Asano and Mizuiro Kojima, saving the former in the process. While Keigo was initially afraid of Ichigo and Chad, both he and Mizuiro later became friends with them.[38]
edit Plot
Agent of the Shinigami arc
Rukia, wounded, about to give Ichigo her power.
One evening, Ichigo confronts a group of skateboarders who had knocked over an offering to a dead girl. After beating an explanation out of them, he orders them to apologize to the ghost of the dead girl; who is floating behind him. When the skateboarders run away, Ichigo tells the girl that they scared them so much that they will leave her alone and apologizes for using her to scare them. He then promises to bring her some new flowers and tells her to hurry up and go to heaven.[39] When he arrives home, he has an argument with his father, Isshin Kurosaki, and storms off to his room; where he sees Rukia Kuchiki. Ichigo mistakes the Shinigami for a burglar and kicks her. Isshin comes to Ichigo's room to tell him to stop creating a ruckus, but when Ichigo informs him about the intruder, he tells his son that he cannot see anyone else in the room. As a result, Ichigo accepts that she is a ghost of some sort, but refuses to believe Rukia's explanation about Shinigami; causing Rukia to bind him with Kidō. As Rukia continues her explanation a Hollow attacks the Kurosaki Clinic. Hearing his sister's pleas for help, Ichigo breaks out of the Kidō and rushes to stop the Hollow.[40] Upon seeing the Hollow, Fishbone D, Ichigo is gripped by fear, having expected the evil spirit to be similar to a Human, rather than the monster standing before him. While reassuring himself, he notices that it is holding Yuzu and charges at it with a baseball bat in a futile attack. Rukia injures the Hollow, freeing Yuzu, and explains that the Hollow's target is likely him. Ichigo thinks this means that it is his fault that his family is in danger and his reckless actions force Rukia to shield Ichigo with her body; causing her severe injuries.[41] Seeing that Ichigo is truly determined to protect his family, Rukia offers to temporarily turn him into a Shinigami by piercing his chest with her Zanpakutō and transferring half of her power to him. However, Ichigo absorbs almost all of Rukia's power. Transformed into a Shinigami, Ichigo makes short work of the Hollow,[42] collapsing afterwards.[43]
Rukia removes Ichigo's soul from his body.
The following morning, Ichigo awakens from a nightmare to find that his family have no memory of the attack and instead believe that a truck hit the clinic. When Ichigo goes to school he is horrified to find that Rukia, who is visible to the other students, is now a part of his class. After she threatens him not to make a scene, Ichigo brings Rukia outside, where she informs him that she is using a Gigai while she awaits the return of her powers. While she is recovering, Rukia insists that Ichigo take over her job. Ichigo initially refuses, saying that the only reason he fought the previous night was because his family was in danger. But Rukia forces his Shinigami form out of his body and takes him to a park where she has received word that a Hollow is about to attack. She then manipulates the situation to persuade Ichigo to perform her duties.[44] After having undergone some training with Rukia to improve his combat tactics,[45] Ichigo hears a beeping sound from inside his room and is startled when Rukia jumps out of his closet whilst trying to warn him of a Hollow attack. As a large hand bursts through the floor, Rukia dons her Skull Symbol glove and forces Ichigo's soul out of his body. Ichigo slashes at the Hollow's head, but only manages to slice off a portion of its mask, revealing the Hollow to be Orihime Inoue's brother; Sora.[46] Rukia explains that all Hollows were once a Plus, causing Ichigo to angrily say that he thought they were just monsters that had to be defeated, questioning what he has been killing up to that point. Rukia cuts him off, saying that Orihime is in danger.[47] As Rukia explains that Hollows often attack their relatives, she and Ichigo rush to Orihime's apartment.[48] Ichigo manages to stop the Hollow before it eats Orihime's soul, positioning himself between her and the Hollow and telling it that it will have to kill him first.[49] Ichigo notes that Tatsuki has been caught up in Sora's attack before realizing that Orihime's body is lying on the other side of the room. Ichigo turns to confirm that Orihime is still behind him and she exclaims that she thought it was him. Remembering Rukia's words that only other spirits can see Shinigami, Ichigo is puzzled by why Orihime can see him. Sora explains that he is talking to her soul, and that Orihime is already dead.[50]
Sora uses Ichigo's Zanpakutō to purify himself.
The Hollow attacks Ichigo with its scale-covered tail, which Ichigo is unable to cut, sending the substitute Shinigami flying through the wall. As Ichigo lands and comes to a stop in mid-air, the Hollow spits acid at him, burning his hands and causing him to drop his Zanpakutō. Sora then hits him from above, knocking him into the ground before returning to Orihime.[51] As Rukia wakes Ichigo, he notes that the battle is different, and that it has affected him. Rukia reminds him that Orihime's soul will be eaten if he loses.[52] Ichigo jumps back into the apartment, but is again shrugged off by Sora. As he threatens to kill Orihime, Ichigo cuts off his hand, telling Sora that older brothers are supposed to protect their siblings. Sora demands to know why Ichigo is interfering[53] and insists that he will not give her to anyone else, especially Ichigo. As Sora tries to bite him, Ichigo tells him that Orihime does not belong to anyone. Sora charges at Orihime and bites her. Ichigo listens as she talks to her brother. As she collapses, Rukia arrives and tells him that she can be saved as long as the Chain of Fate is still attached to her body. As Rukia attempts to heal her, Ichigo reveals that Orihime had told him that her hairpins were a present from him and tells him that he should not think that he is the only one who is sad. Sora grabs Ichigo's sword and uses it to break off his mask, saying that he wants to disappear before he lose himself again. Ichigo tries to talk him out of it, but Rukia stops him, saying that he should let him disappear. She explains to him that Hollows defeated by a Zanpakutō are purified and sent to Soul Society. After Sora purifies himself, Ichigo asks Orihime how her injuries are but instead she tries to ask him other questions; only for Rukia to erase her memory.[54]
Ichigo senses Yūichi Shibata inside the parakeet.
When Ichigo remarks that his wounds have healed very well, Rukia tells him that she excelled at Kidō in the Shinigami Academy. Ichigo asks if there is a school for Shinigami, but Rukia changes the subject by asking him how to open a juice box. Mizuiro Kojima interrupts, noting that Rukia and Ichigo are together again, saying that they get along well. Ichigo denies this. When Mizuiro questions the impression Ichigo is giving those around him, Ichigo tells him that he would have died his hair long ago if he was worried by such things. As Mizuiro introduces himself to Rukia, Ichigo says that his hobby is womanizing, warning Rukia to watch out for him. As Keigo Asano arrives, Mizuiro tells him that Ichigo asked her out. Despite Ichigo's denial, Keigo congratulates him and introduces himself to Rukia, only to be interrupted by Reiichi Ōshima. Reiichi then asks Ichigo when he will dye his hair, claiming that Ichigo is copying his style. Ichigo reminds him that it is his natural hair colour and tells him to do something about his own hair, calling him a chicken and claims to be a thousand times stronger than him. Angered, Reiichi ignores Keigo's pleas not to fight and produces brass knuckles. He is then knocked out by Sado. As Sado explains his injuries, Ichigo notices that he has a parakeet with him. Rukia tells him not to worry, as the spirit inside of it is just a lonely Plus, which they should send to Soul Society that night. Ichigo complains about missing another night of sleep.[55] When Ichigo returns home, he finds his sisters busy helping with the injured from a car accident. He asks Isshin if there is anything he can do to help, but is told to stay out of the way. When Sado is brought into the clinic, Isshin asks him to help his friend. Ichigo notes that the wound on his back were inflicted by a Hollow, which Rukia confirms.[56]
Karin pleads with Ichigo
The following morning, Isshin tells Ichigo that Sado has disappeared from his room in the clinic. Ichigo rushes to school and asks Mizuiro if Sado is there. Realizing that he is not there, Ichigo runs out of the class just as his teacher is entering; telling her that he has a stomach ache. Rukia catches up to him, saying that she did not find him nor has she received any information about Hollows from Soul Society. She explains that Hollows can hide between the Human World and Soul Society, so Ichigo decides to try to track the spirit inside the parakeet. To Rukia's shock, Ichigo finds the Reiraku of the Plus and begins to follow it.[57] When they find Sado, he runs away from them. Ichigo tells him that it is dangerous to be by himself, but is distracted by a weakened Karin. Rukia tells him to bring Karin, who has collapsed, home. He complains, but when Rukia insists, he tells her to be careful as her power still has not returned. As he runs home with Karin in his arms, she tells him that she saw the memories of the child trapped within the bird and that the Plus saw his mother being murdered. She asks him to save the child.[58] After placing her in her bed, Ichigo rushes back to help Sado. Reflecting upon how long it has been since he last saw Karin cry, he promises to send the Plus to Soul Society.[59]
Ichigo returns Shrieker's bombs.
When Ichigo arrives to fight the Hollow, he stamps on its head and tells Rukia not to try to act cool when she is beaten up. He introduces himself to the Hollow, Shrieker, and tells him that he is the one that he should be fighting.[60] Rukia releases Ichigo from his body and he immediately injures Shrieker's shoulder while Rukia takes care of his body. Ichigo notes the small creatures nearby, commenting that he had seen them carrying Sado's birdcage and he was glad that he killed them. Rukia tells him that they spit out explosive leeches. Ichigo slices the creatures that jump at him, but the leeches they contain spill out and explode when Shrieker makes a noise with his tongue. Ichigo emerges from the smoke and hits Shrieker, asking him if he was the one who killed the child's parents, which he confirms. After listening to Shrieker's explanation, Ichigo becomes disturbed and the Hollow pushes his sword away; throwing more of his artillery creatures at him. Ichigo catches one and slams it into Shrieker's mouth. When the Hollow does not detonate them, Ichigo rips out its tongue,[61] before stabbing his sword into Shrieker's leg. Ichigo asks him how it feels to be unable to move or fight, and if he can savour what it is like to be murdered. Shrieker rips his leg off to escape, causing Ichigo to mock him before cutting through his head. From this wound, the gates of Hell emerge. Rukia explains to Ichigo about Hell as the gates open and Shrieker is dragged inside. When Rukia tells the Plus that they will send him to Soul Society, Ichigo tells him that he might be able to see his mother there.[62]
Ichigo questions the use of the Artificial Soul.
The following day, Ichigo notes that Sado's memory has been erased. Rukia asks to speak with him and punches him when he refuses to talk in private. She drags him outside and gives him a Gikongan, a dispenser of Artificial souls. After explaining its purpose, and striking Ichigo for making fun of her, she forces him to try one. Ichigo is unconvinced by the replacement soul's personality, but is forced to leave it in his body when they receive an order from Soul Society.[63] After defeating the Hollow Ichigo rushes back, concerned about how the artificial soul is getting on. Upon noticing a broken window in his class, Ichigo jumps up to it, only to see his body jump out the same window and run away at an extremely high speed. As they chase after him, Rukia tells him that it must be a Modsoul.[64] Angered by the Modsoul's actions, Ichigo argues with Rukia, before asking her to explain what a Modsoul is. While listening to the explanation and looking at Rukia's drawings, he complains to himself that he cannot take it seriously because her pictures are so bad. Ichigo questions if Rukia is alright with the idea of the Modsouls being created and killed all for Soul Society's convenience, but she tells him that it is irrelevant as it is Soul Society's law which is there to protect Humans. Ichigo thinks to himself how the Modsoul must feel about being persecuted and then gaining his body.[65] As they search for him, they receive an order informing them of an immanent attack by a Hollow.[66] Hurrying to its location, they find the Modsoul is already fighting it. Ichigo rushes to his aid. When the Modsoul tries to ask why Ichigo saved him, he demands to know whose body it is while fending off the Hollow. The two continue arguing as they defeat the Hollow together. Kisuke Urahara arrives to reclaim the Modsoul, removing it from Ichigo's body. Ichigo asks him what he is going to do with it and, realizing that Kisuke can see him, he asks who he is. Rukia snatches the Modsoul back, dismissing him as a greedy merchant. She tells Kisuke that she is happy with the Modsoul and gives him to Ichigo; who thanks her for not throwing him away.[67]
Ichigo has trouble sleeping, plagued by memories of Masaki's death.
On the 16th of July Ichigo is woken by Kon who threatens to sneak inside his bag when he goes to school, to get him in trouble, if he does not get up. Ichigo throws Kon at the wall, reminding him that he has been told to act like a normal stuffed toy animal. Ichigo recalls how he and Rukia had searched for a body to place the Modsoul in, but ended up placing him inside a stuffed animal they found by the roadside. He also reminisces about how he came to call him Kon. Rukia complains about the noise they are making. Ichigo scrambles to hide her and Kon as Yuzu comes into the room to tell Ichigo that Mizuiro is waiting for him. Whilst hurrying to get dressed, Ichigo tells Mizuiro from the window that he has just woken up and to wait inside for him. Ichigo notes that Mizuiro's memory seems to have been erased, remembering that Rukia had told him that Kisuke , whose name he cannot remember, must have worked hard. As Rukia leaves via the window, Ichigo complains that Isshin did not wake him up as usual before noticing the date. Rukia asks why he has such a long face, but Ichigo says it is nothing and that "it's soon".[68] When he arrives in school, Orihime says hello to him and he smiles back as he returns the greeting.[69] That night, the Kurosaki's hold a family meeting to discuss their trip to Masaki's grave the following day for the anniversary of her death. Ichigo asks Rukia if he can take tomorrow off from the Shinigami work for just one day, telling her that it is the day Masaki was killed.[70] Ichigo lies in his bed, a towel over his eyes as memories of that rainy night flash through his mind. As he walked with his mother he had seen a girl by the river bank take a step into the raging waters and had gone to rescue her. Ichigo covers his eyes, trying to block out the painful memories. His attempts are unsuccessful, as he remembers his mother calling after him as he ran to the girl. The next thing he remembers is being by the side of his dead mother.[71]
Rukia asks about Masaki's death.
On the 17th of July, while walking to the graveyard, Ichigo notes that it is very hot, completely different from the day Masaki died. When the twins see Rukia waving at them, Yuzu asks if Ichigo knows her, which Ichigo denies. Karin then says she thinks she has seen her before, prompting Ichigo to claim to have suddenly remembered that she is from his school and goes to talk to her, sending the girls ahead to the grave. Ichigo asks Rukia why she followed him and gets annoyed when she says it was in case of a Hollow attack, saying that she should be more covert. He then denies being angry about it. Rukia asks him who killed Masaki, questioning if she was killed by a Hollow. Ichigo reacts angrily to the suggestion that a Hollow could have been targeting him and killed Masaki by mistake, saying that she blames everything on Hollows. As he is saying this, Ichigo notices the same girl he saw the night Masaki died and he runs after her.[72] When Rukia catches up to him, he tells her that the one who killed Masaki was himself.[73] At Masaki's grave, Ichigo looks on as Isshin declares that it is time for the annual "Kurosaki Family Tombstone Domino Rally", with Isshin and Ichigo being the first match. However, Yuzu stops Isshin.[74] Ichigo stands at the grace, reflecting on the night his mother died and what impact it had on the family.[75] Later, Isshin uses a whistle to call Ichigo and the twins. Ichigo tells him to stop, as he can hear him even without the whistle. Ichigo asks him if Karin and Yuzu are there yet, but Isshin tells him that he would have left without him if Ichigo was the only one that he was waiting on. He tells Ichigo to find the girls, but he refuses, saying it is tiring and that he should go himself. Isshin grabs Ichigo, asking if his little sisters are not precious to him and decides that they will split up search for them. He tells Ichigo to search in one direction, and then says he will stay there, prompting Ichigo to kick him. Isshin complains that Ichigo broke his jaw. Ichigo then senses the reiatsu of a Hollow.[76]
While running, Ichigo realizes that Yuzu and Karin are easy targets. He meets up with Rukia, saying that he must be heading in the right direction if she is there too. He asks her if she is going to question him further on his mother's death, but she tells him that it is his problem and that she will wait until he is ready to talk about it. Kon pops out of Rukia's backpack, telling them to stop acting so cool, surprising Ichigo. Ichigo questions when Kon became so devoted to Rukia and tells him that Orihime is there. Seeing his reaction he says that Kon is not devoted at all as the little plushy is left behind.[77] As the Hollow attempts to eat Yuzu, Ichigo arrives and cuts off the tentacle holding Yuzu before severing its hand, freeing Karin. Ichigo demands to know why the girl he saw when Masaki died is there; asking if she is a Hollow's crony or if she is controlled by a Hollow. The Hollow tells him that he is wrong.[78] The girl's form changes and it sprouts a tentacle from its head, connecting it to the Hollow's body. As Ichigo asks if the girl is a part of him, Rukia tells him that the Hollow is called Grand Fisher, and that it uses a lure to trick and devour Humans who have souls with high levels of spiritual power. Ichigo realizes that the girl he was trying to save when Masaki died was actually Grand Fisher's lure and that the Hollow killed his mother. Despite Rukia's protest, Ichigo lunges at Grand Fisher, who dodges his attack. Grand Fisher grows a new hand and attacks Ichigo, who blocks the attack, only to find the furry Hollow launching 's hair growing and attacking him. Rukia begins to chant a Kidō spell, but Ichigo tells her to stop and cuts his way free from the hair. he tells Rukia that he will fight the Hollow alone, and instructs her to look after his sisters with Kon. When she protests, he cuts her off and asks her not to interfere, claiming it is his fight.[79]
Grand Fisher attempts to manipulate Ichigo.
Ichigo struggles against the faster Grand Fisher, who mocks him. Ichigo realizes that all he can do is shrug off the Hollow's attacks and that his stamina will not last at this rate. He stops himself, saying that this is his mother's killer. Thinking of Yuzu and Karin, he remembers that he decided to protect them and swears to defeat Grand Fisher. He dives at the Hollow's chest, but Grand Fisher catches Ichigo's sword. As he tells Ichigo that he hesitated, his fingers tear apart and grow, stabbing Ichigo in the chest.[80] Angered by Grand Fisher's taunts, Ichigo slashes at the Hollow, swearing to defeat him even if his arms and legs are ripped off. Grand Fisher remarks that he is so young and easily manipulated, before transforming his lure into an image of Masaki.[81] The Hollow explains that, using the hand that impaled Ichigo, he can look into an enemy's memories and create an image of the one thing that they cannot cut more than anything else in the world.[82] Ichigo screams at him that this is not the kind of place to bring out Masaki's form. He charges at Grand Fisher, but he uses the lure to block him, telling him to sheath his sword. The Hollow punches through Masaki's form and pierces Ichigo's chest, telling him that anger can dull the blade. Ichigo stabs the Hollow's chest and grabs his arm, saying that he has finally caught him. He says that his dulled blade is all he needs to defeat someone like him and turns the Hollow's own words back on him; slashing open his chest.[83] As Grand Fisher collapses, a severely injured Ichigo uses his sword to prop himself up. When Rukia arrives, Ichigo tells her that she is late and that he has already cleaned up. Rukia reminds him that it was him who told her to stay out of the fight. As Grand Fisher stirs behind Ichigo, Rukia warns him just in time to dodge another attack. The Hollow then transfers its form into the lure, saying that both parts of him are the real body.[84] The Grand Fisher leaps into the sky and escapes. Rukia tries to convince Ichigo that he cannot fight him any more, but he insists that he can still fight and that the Hollow is still not dead yet; despite this he soon collapses on Rukia.[85]
Isshin gives Ichigo some advice.
Ichigo awakens back inside his body, in great pain. Rukia tells him not to make a fuss as the wounds his soul received will show up when he returns to his body, insisting that he should know that by now. Ichigo complains that she always returned him to his body after healing all his wounds, this prompts Rukia to apologize as she says that she used most of her strength to heal his stomach wound. When Ichigo thanks her, she tells him that the pain numbed in battle returns when one re-enters his body and gives him some plasters for the cuts on his face. Ichigo asks her if he lost, but she tells him that the Hollow fled and nobody died, so he won. Ichigo says that Grand Fisher is not dead and walks off.[86] Back at Masaki's grave, Ichigo apologizes to her for being able to avenge her. Isshin offers him an umbrella, but Ichigo refuses the offer, prompting Isshin to repeatedly poke Ichigo in the head until he hits him back with it. Isshin notes that the time has gone past quickly and that it has already been ten years since Masaki died. Ichigo says that it has only been six years, to which Isshin replies that he was "so close". Ichigo loudly complains about this, causing Isshin to say that Masaki can rest easily if she sees him being so lively. When he starts smoking a cigarette, Ichigo says that he thought he had quit smoking when Karin and Yuzu were born. Isshin explains that Masaki complimented him when they started dating about his hand looking cool when he was smoking. He notes that this was the only time that she had complimented his looks. As a result he smokes at her graveside every year on the anniversary of her death.[87] Isshin tells Ichigo not to look so sad. When Ichigo asks why nobody blames him for Masaki's death Isshin asks why he would blame Ichigo, saying that if he blamed her death on him, Masaki would become mad at him. He explains that Masaki was a woman who would die to protect her son. Isshin reminds Ichigo that he is the one that the woman he loved gave her life to protect. He then knees Ichigo in the back and tells him to live his life well and leaves. Ichigo asks Rukia if her powers are returning and asks that she allow him to remain a Shinigami for a while longer, regardless of whether it is returning or not. He says that he wants to become stronger so that he can defeat Hollows, protect those that are targeted and to defeat Grand Fisher; otherwise he will not be able to face Masaki.[88]
One Sunday morning, Ichigo leans out his bedroom window to beat Kon clean against the wall, in spite of Kon's protests. Rukia tells him to stop, as she has arranged for an implement to clean him with - the schools toilet brush. Ichigo orders her to take it back.[89] Later, Kon, wearing a dress, leaps at Ichigo apologizing for having run away from home. Ichigo, who had been wondering where Kon was, questions why Kon is dressed in such a way.[90] While Yuzu and Isshin are watching Don Kanonji's Ghost Bust TV programme one Wednesday evening, Ichigo asks Yuzu what the pose they are doing is. When Yuzu calls the show cool, Ichigo asks himself if that can be considered cool. Yuzu says that he can definitely see them, but Ichigo says that he does not know about that, annoying Yuzu. Ichigo then tells her that if he says he can see them, then he can see them. As Ichigo finishes his juice, he asks a distracted Karin what she is looking at. She says it is nothing, prompting Ichigo to tell her that she is acting weird. Ichigo asks her if she is not going to watch with Yuzu and Isshin, but she says she is not interested. She tells Ichigo that she can see spirits about as clearly as Ichigo can, hence her disinterest in the ghost show. Ichigo remembers that she was the only member of the family to see the Hollow that attacked the house when he first met Rukia. He then realizes that if she can see Hollows, then she might be able to see Shinigami as well. His thoughts are interrupted by Yuzu shouting as the announcer reveals that the show will be broadcast from an abandoned hospital in Karakura Town the following week.[91] The next morning at school, Orihime performs Don Kanonji's pose as Ichigo arrives in class, confusing him. She asks Ichigo if he has not heard of it. When Ichigo says it is Ghost Bust, Orihime ask him to do the pose together, but Tatsuki drags her away. As Ichigo's friends all do the pose, Ichigo tells Keigo that he is not going to the show when it arrives in town. Keigo tries to convince him to go, but he retorts that Keigo is not even from Karakura. Keigo reveals that he has invited Rukia and tries to get her to do the pose.[92]
Orihime apologizes to Ichigo.
The following Wednesday evening an annoyed Ichigo, accompanied by Isshin and his sisters, watches his friends gather at the abandoned hospital where Ghost Bust is being filmed. When they note that he did come after all, Ichigo tells Keigo and Mizuiro to shut up and that he will kill them. Orihime apologizes to Ichigo for trying to get him to do Don Kanonji's pose, explaining that Tatsuki had told her he hates such shows. Ichigo, who did not remember it at first, tells her that it is okay and that it doesn't bother him. He reveals that Keigo and Mizuiro know he despises it, but yet still do it anyway. When asked why he came, he tells Orihime that Isshin and Yuzu are huge fans of the show, saying that they would look pitiful if just the two of them went. Orihime tells him that he is so kind, but Ichigo dismisses it as normal.[93] Ichigo notes that everyone is foolishly gathering at the hospital, thinking that the TV show's staff will think that they do not get any entertainment, calling them freaks. Rukia tells him that he must be tired from his dual life and instructs him to use this chance to spread his wings. Ichigo is surprised that she is concerned about his health, but gets annoyed with her when she reveals that she does not know what the "festival" is about. After explaining it to her, he asks if there really is a spirit in the abandoned hospital, noting that if a spirit really is there, the Shinigami would have dealt with it already. Rukia replies that that is not exactly correct. She says that it is likely to be a Jibaku-Plus and begins to explain what this is.[94] When the Jibaku-Plus begins screaming, Ichigo notes that it sounds like the voice of a Hollow. Rukia tells him that it is on its way to becoming a Hollow.[95] Ichigo notes that it feels like there is a Hollow nearby, but it does not look like one; prompting Rukia to finish her explanation. As the Jibaku-Plus screams at those who have gathered, Ichigo says that he is carrying "one hell of a greedy grudge". As the show begins filming Don Kanonji parachutes into the hospital grounds, causing Rukia to go watch the events unfolding. Ichigo asks her if they should not perform Konsō on the Jibaku-Plus to prevent him from becoming a Hollow. Rukia tells him that it takes months, even years to turn into a Hollow. She says that it would be trouble if there was a struggle as somebody might get hurt and instead states that they will perform the Konsō after the show. Seeing that Ichigo is unconvinced, she seeks to reassure him. However, Don Kanonji jams his staff into the hole in the chest of the Jibaku-Plus.[96]
Ichigo fends off the Hollow, Jibakurai.
Concerned, Ichigo jumps over the cordon and shouts at Kanonji to stop. He is immediately pounced upon by security. He tells them to let him go or something bad will happen. Rukia tries to change him into a Shinigami, but is caught by security too. Ichigo tells her to break free and get over to him, as she only has two guys restraining her.[97] Kisuke Urahara pokes his cane through Ichigo's head, freeing his Shinigami form from his body. Recognizing the sandal-hat guy, Ichigo asks what he is doing there, only to be told not to space out. Ichigo rushes towards Kanonji.[98] Ichigo shouts at Kanonji to stop and knocks him away from the Jibaku-Plus. Kanonji asks what he is doing, causing Ichigo to realize that the medium can see him. When Kanonji calls him a fan, Ichigo threatens him but is cut off by the screams of the Jibaku-Plus, who vanishes in an explosion.[99] Ichigo notes that it did not turn into a Hollow, thinking that Kanonji took care of it. When he asks him if he sent the Plus to heaven, he promises to send Ichigo to heaven too. Rukia shouts at him to look up, where they see the Plus reforming into a Hollow on top of the hospital. Kanonji asks what it is, surprising Ichigo, who tells him it is a Hollow; but Kanonji ignores him. As the Hollow charges at them Ichigo tells Kanonji to run away, but Kanonji pushes him back, telling him to run. Kanonji challenges the Hollow but Ichigo jumps in between them and knocks the Hollow back. The two momentarily bicker but when the Hollow attacks again, Ichigo blocks it.[100] Ichigo knocks Kanonji out of the way of a charge by the Hollow, who gets its head stuck in the hospital wall. As it frees itself, Ichigo drags the medium inside the hospital.[101]